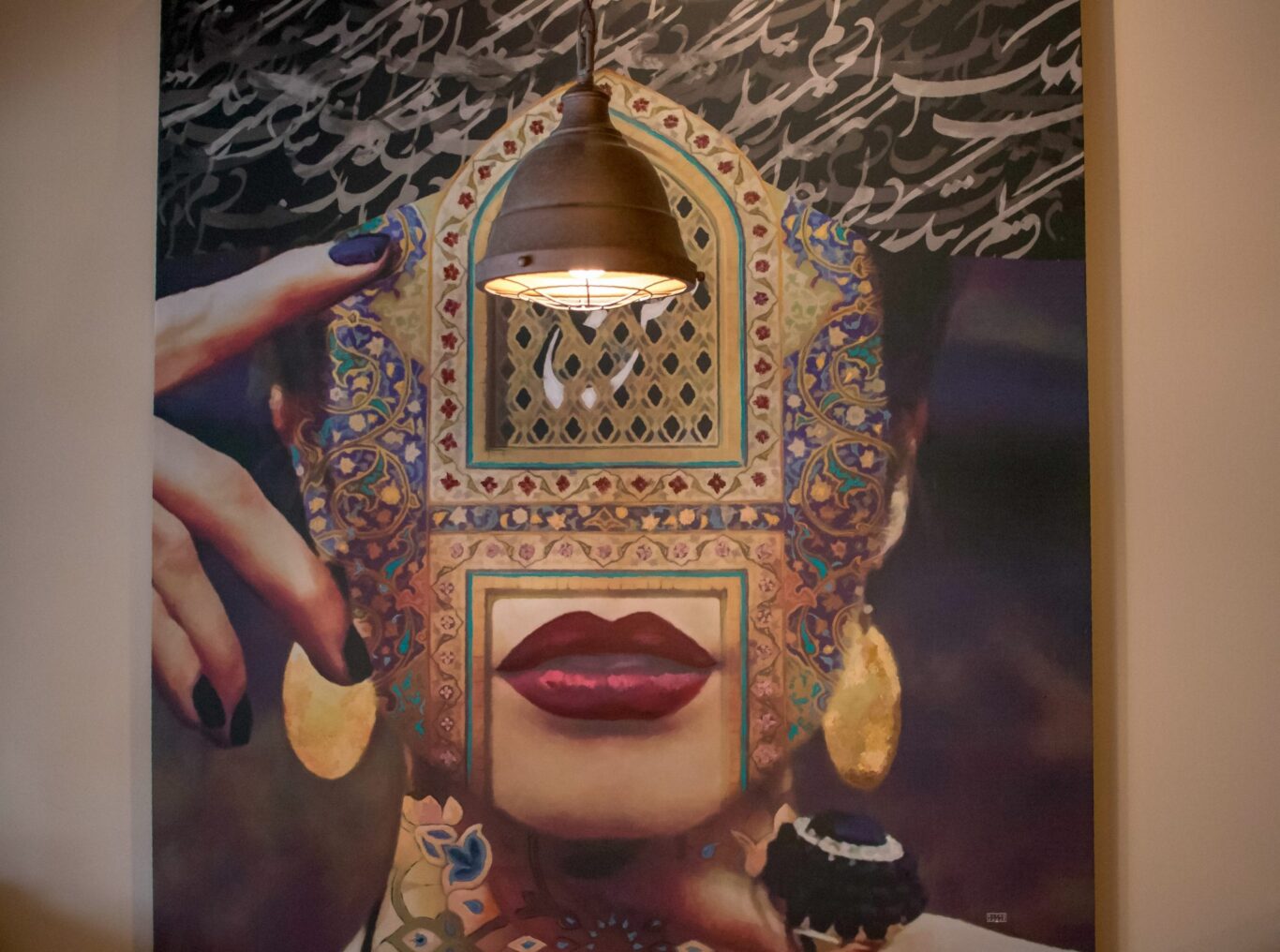 Persian food, an ancient cuisine, is as delicious as it is nourishing, as
beautiful as it is healthy Our food is lushly perfumed with saffron, citrus,
rose petal, and mint.
Familiar foods such as lamb, veal, rice and chicken are exotically transformed into the leanest kebab, heavenly mixed rices, and magical stews
by the mysterious tastes of pomegranate, cardamom, sumac and traditional herb blends. Our cuisine reveres fresh tastes and ingredients, and
our table is a gorgeous collage of colours, textures and aromas. Also,
yours to discover, a beautiful collection of original Persian artwork, as
| | |
| --- | --- |
| evocative of our culture as the cuisine | itself. |
Welcome to Queen of Persia!
Rocca Delle Macie Chianti 2015 Italy
Wyndham Estate Bin 555 Shiraz Australia
Luigi Bosca Malbec 2016 Argentina
Jacob's Creek Double Barel Shiraz Australia
J.Lohr Merlot 2016 California
Louis Latour Bourgogne Pinot Noir 2017 France
J.Lohr Cabernet Sauvignon 2016 California
Masi Costasera Amarone Classico 2013 Italy
House Wine Sauvignon Blanc
Villa Blanch Chardonnay France
Santa Margarita Valdadige Pinot Grigio 2017 Italy
Kim Crawford Sauvignon Blanc New Zealand
Rose, Sparkling, Champagne
Kim Crawford Rose New Zealand
Sparkling Wine, Cava Segura Viudas Spain
Victoria Prestige Burt Champagne France
Sekanjebin
Honey and Apple Cider Drink Infused with Zaffron – House-made honey mint concentrate boiled with organic apple cider vinegar and
mixed with grated cucumber

Sharbat e Golab
Zaffron Infused and Rose Water Drink
Sharbat-e Nanaa va Limmo
Mint and Lemon Drink – House made fresh mint blended with fresh lemon juice and honey
House-Made Doogh
Mint and Sea-Salt Drink – Light Yogurt base drink with aromatic herbs and slight rosewater
Dough Pitcher (serving 5)
Golestaneh
A Vodka and Rose wine drink infused with Orange blossom petals
Gold Martini
Tequila based, Saffron infused martini with basil seeds
Pom Pom Martini
Pomegranate and rose water vodcatini(vodca & martini) with pom fruit, topped
with Lavashak (Fruit roll paste)
Mojito
Fresh lime and mint drink with white Rum (double shot)
Rum & Gabin
Sekangebin based cocktail with Rum, honey, grated cucamber and apple
cider vinegar
Omar Khayam
Sour cherry Juice and double shot vanilla Martini, topped with Persian cotton candy (Pashmak)
Morrocan Brown Ale
Beer Brewed with Raisins, Dates, Figs and Cinnamon
Amber of the North / British Red Ale
A distinct sweat malt, nutty and spice flavour gives way to warming chocolate, molasses and honey undertones with vanila, caramel and dried fruit aroma
Arak Saggi
Traditional Persian Spirit Made from Raisins & Triple Distilled
Single Malt Scotch Whisky
Crown Royal Canadian Whisky
Tequila Gold
Jose Cuervo Especial Gold Tequila
Mast o Moosir
Yogurt Dip with Shallots and walnut
Shirazi Salad
Crispy Cucumber and Diced Tomato and Onion – Dressed in lime and mint powder
Hummus
Fresh Chickpeas and Tahini Sauce Dip
Zeytoon Parvardeh
Caspian Style Olive Dip – Delicate chopped green olives, pomegranate reduction, walnuts and aromatic herbs
Salad Anar
Pomegranate Salad Platter – Green leaves, Feta cheese, olives and walnuts with the pomegranate-balsamic
reduction (Serving 2-3 people)
Cold Antipasto Taster
Hummus, Mast o Moosir, Shirazi salad (Serving 2-3 people)
Soop-e Jo
Cream of Barley Soup – From earth and farm ,this sophisticated Mushroom and barley soup is reached with
mushroom and has the added goodness of whole grain barley
Mirza Ghasemi
Roasted Garlic Eggplant and Tomato Spread – Richly flavoured garlicky eggplant dip with scrambled egg
Kashko Bademjan
Smoked BBQ Eggplant Walnut Dip – A delicious veggie starter with roasted eggplant, garlic, mint, and a hint of whey (dehydrated yogurt)
Dolma
Homemade Handwraped Stuffed Grape Leaves
Warm Taster Platter
Kashk o Bademjan, Mirza Ghasemi, and Zeytoon Parvardeh (Serving 3-4 people)
Queen's Koobideh BONAB
Minced beef kebab – A moist aromatic skewer of Angus minced beef (13 ounces)
Queen's Special Koobideh
Minced lamb kebab – 2 skewers of juicy minced lamb (14 ounces)
Joojeh Kebab
BBQ Chicken drumsticks – A tenderly moist lean saffron marinated dark chicken skewer
Torsh Joojeh Kebab
Caspian Sour Chicken Kebab – Extra tender chicken breast marinated in special buttery Sumac and Pomegranate
reduction sauce, rich healthy and tarty
Barg Kebab (Premium)
Fillet of Milk Fed Veal Tenderloin(AAA Ontario) – Extra lean and delicately marinated fillet of veal tenderloin (13 ounces)
barbecued and seasoned with saffron and spices
Torsh Kebab
Caspian Sour Fillet Kebab – Spring lamb (13 ounces) marinated in pomegranate molasses and walnuts
tarragon flavoured
Shishlik
Lamb Chops Skewered Kebab – 6 pieces of tender lamb chops marinated in saffron and aromatic spices
Kebab Vaziri
"Ministry" Mix Grill Kebab ( 2 Skewers ) – Two skewers of kebabs combination of one ground beef and one skewer of chicken breast (For 1 to 2 p)
Kebab Soltani
"King" Mix Grill Kebab ( 2 Skewers ) – Two skewers of kebabs combination of one ground beef and one veal tenderloin (For 1 to 2 p)
Marlik Platter
( 2 Skewers ) – Two skewers of Caspian style kebabs combination of one sour chicken kebab(Torsh joojeh)
and one Caspian sour lamb kebab (Torsh Kebab) (For 2 p)
Queen's Special Tray
( 3 Skewers ) – Three skewers of kebabs combination of one Koobideh Bonab (minced beef), one Joojeh
Kebab (chicken breast) and one Special Barg kebab(For 2 to 3 p)
Queen's Party Platter
( 5 Skewers ) – Five skewers of kebabs combination of two Koobideh Bonab, one Joojeh
Kebab, one Special Barg and one Shishlik(For 4 to 5 p)
Ghormeh sabzi
Herb, Kidney bean & Beef Stew – Aromatic herb laden plate of sautéed parsley, green onion, spinach Fenugreek,
kidney beans, sundried lime and lightly stewed beef
Fesenjan
Pomegranate Chicken Walnuts Stew – A heartwarming dish made with chicken in a delicate combination of sweet and sour pomegranate reduction, ground walnuts and seasoning
Gheymeh Nesar
Jeweled Lamb Stew – This Best Known Persian traditional dish is made of tender lamb cubes cooked with barberries, silvered nuts and lightly sweetened orange peel that gives the dish its unique flavoured
Zereshk Polo
Barberries rice & chicken leg – Persian classic made with barberries, saffron steamed rice and saffron chicken
Morassa Polo
Aromatic Jewelled Rice Pilaf and Chicken – Roasted and julienne of chicken along with barberries, bright fruits of orange, carrots, golden raisins, cardamom and nuts sparkle on rice with saffron steamed rice
Baghali Polo Mahicheh
Lamb Shank with Fresh Fava Beans and Dill Rice – Fresh herb flavoured green rice and fava bean served with slowly braised lamb shank or salmon fish

Ghalieh Mahi
Stewed Fish and Cilantro in Tamarind (little Spicy) – Fresh Cod fish combined and stewed with fresh chopped coriander, tamarind sauce, saffron and garlic with spicy seasoning
Meygoo Polo
Shrimp and Rice – A delicious dish from south of Iran, made of well-seasoned shrimp and aromatic spices, Golden raisins, date pieces, and walnut topping. A must try
Veggie Kebab Koobideh
Vegtable as grain and beyond meat based minced kebab, VEGANS' MUST TRY!
Ghalie Kadoo
Spicy Zucchini Stew in Cilantro and Tamarind = Spicy vegetable stew with zucchini and sautéed onions with saffron steamed rice, tangy and spicy
Ghormeh Sabzi
Herb Stew, & Kidney-Bean – Sautéed parsley, green onion, spinach, Fenugreek, kidney beans and sundried lime with saffron steamed rice
Fesenjan
Pomegranate Mushroom Walnuts Stew – A heartwarming dish made in a delicate combination of sweet/sour pomegranate reduction, ground walnuts, with your saffron steamed rice
Morassa Polo
Jewelled Rice Pilaf with Red Barberries – Juliennes of aromatic orange, carrots, cardamom, golden raisins with nuts sparkle on saffron steamed rice